LBJ Express
Dallas-Fort Worth, Texas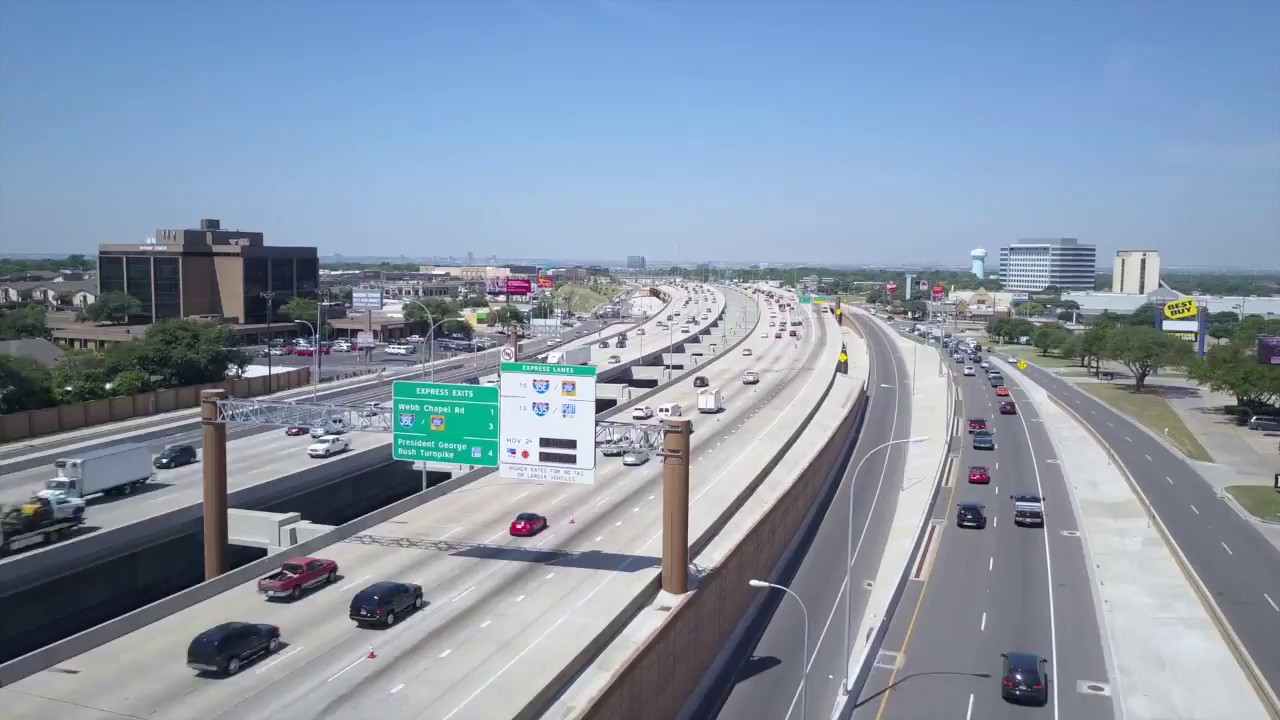 The Managed Lanes represent a reliable alternative to the congested corridors in which they are located. The toll lanes are managed through the application of a dynamic toll to ensure that users travel at a minimum average speed of 50 mph at any time of day, even during rush hours.
2.2 €B

Investment

27.4 KM

Highway

MANAGED LANES

Solution

OPERATION

Phase
The LBJ Express provides a solution to the congestion problem of interstate highways 35E and 635 in Dallas, Texas.
44.1 M

Transactions 2018

54.6 %

Paticipation

3

Lanes per Direction

2009-61

Duration
Users who choose not to use the toll lanes also benefit because of the completely renovated project with better standards and safety.
ALBERTO GONZÁLEZ LALUEZA, CEO LBJ EXPRESS
"Las Managed Lanes son la mejor alternativa puesto que ofrecen a nuestros usuarios un ahorro de tiempo y la certeza de llegar a su destino a la hora prevista."
2016

Best Project Awards: Best Project Road/Highway

ENR Global

2016

Best Regional Projects – Best Highway/Bridge Project

ENR Texas and Louisiana

2016

Best Regional Projects – Award of Merit: Excellence in Safety

ENR Texas and Louisiana

2016

Community Award

AGC

2016

Best Design Build Project

AGC

2014

Minority Business Leader Awardee – Angela Berry-Roberson

Dallas Business Journal

2014

Pillar Award, 2014 General Contractor of the Year

Regional Hispanic Contractors Association

2013

Small Business Advocate – Angela Berry-Roberson

Texas Department of Transportation (TxDOT) Office of Civil Rights

2013

Small Business Advocacy Award

Texas Department of Transportation (TxDOT) Office of Civil Rights

2013

LUNA Administrative Professional of the Year – Margarita Moreno

Regional Hispanic Contractors Association

2013

LUNA Business Advocate of the Year – Angela Berry-Roberson

Regional Hispanic Contractors Association

2013

Award of Honor for Community Relations

PRSA Dallas

2013

Honorable mention for best Digital PR Campaign ($100-200k)

Ragan's PR Daily

2013

Runner up for Best PR Campaign of the Year

Ragan's PR Daily

2013

Globe Award winner for Environmental Excellence

ARTBA (American Road & Transportation Builders Association)

2013

MBE Best Practices Recognition Award

DFW Minority Supplier Development Council

2013

Gemini Teaming Partner Award

Asian Contractors Assn. of Texas

2010

P3 Transaction of the Year

Infrastructure Investor Magazine

2010

Developer of the Year

Infrastructure Investor Magazine

2010

North American Project Bond Deal of the Year

Project Finance Magazine

2010

Project of the Year

ARTBA (American Road & Transportation Builders Association)
CSR
Girl Scouts Gear Up for a Day of STEM Activities with LBJ Express
"We are so grateful to the LBJ Express office for inviting Girl Scouts to participate in this learning experience," said Jennifer Bartkowski, CEO of Girl Scouts of Northeast Texas. "It is opportunities like this that open young girls' minds to future careers in STEM, which are in great demand."
CONTACT
4545 LBJ Freeway,
Dallas TX 75244
US